Eleanor Bessonette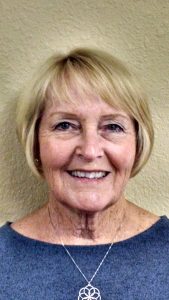 Eleanor Bessonette has been active with Jericho Road as a volunteer, coordinator of the Housing Assistance Program, board member and officer for a number of years. She and her husband, Mike, have lived in Redmond since 2003 and are active in the Community of Christ Church.
Graduating from Graceland University (Iowa) and holding a Master's degree from Linfield College and an advanced degree from Lewis and Clark University as well, Eleanor's career has always focused on education. Working as a Child Development Specialist, Special Education Coordinator and Elementary School Principal, her favorite role has always been as a classroom teacher. Eleanor and Mike also taught at the Dresden International School in Dresden, Germany.
The couple loves to travel and being with family along with outdoor activities like hiking, kayaking and gardening. Their volunteer time is now shared by Jericho Road and Redmond Habitat for Humanity.